Module1

Lift force and coefficient of lift Cl
Tutorials software mecaflux, mecaflux functions,Editor Profiles,data airfoils,Wings,keel dagger board,profiles
The lift is a force perpendicular to the displacement of fluid. It is created by aspiration in a low pressure area formed on top of profile designed for this purpose. It depends on the mass of fluid displaced.
The lift is calculated versus:
coefficient measured in wind tunnel known as Cl or lift coefficient

the projected wing area on the ground

speed

the fluid density .
The Cl or lift coefficient, is measured in wind tunnels and there are databases available for many profiles , velocity and different incidences
lift force is usually the strength necessary to fly.The ratio lift/ drag is the efficiency of the wing
In the case of Profiles measured in wind tunnel, the lift is calculated by the the projected surface ground .

Lift force in Newtons
The Cz(or cl) is the coefficient of lift, it is determined experimentally in wind tunnels or basin.Note tha the wind tunnels test are available for hydrodynamics because de Cl(Cz) value is versus the Reynolds number.
p is the fluid density Kg/m3
S projected wing area on the ground m²
v the velocity of the fluid m / s
( In its profile editor Mecaflux integrates XFOIL to determine lift and drag of profiles)
MECAFLUX The software offers differents profiles to interesting incidences angles and 3 ranges of Reynolds numbers and extrapolations, if the speed is out of range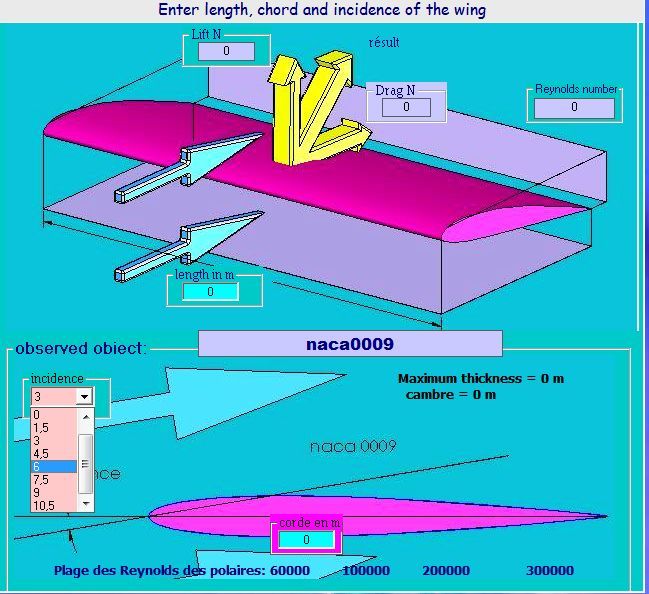 If that's not enough you have a Profile Editor allowing you to build profiles of your files and integrate them into the calculation of lift